Great Alaska Adventure #3 To Whittier, Valdez, Glennallen, Anchorage
My Great Alaska Adventure #3
is a two day trip with a night in Valdez and is a fantastic trip with a real feel for what Alaska is all about. You will experience glaciers up close, icebergs, sealife, bird rookeries, waterfalls, and scenery that will blow you mind. It starts from Anchorage to Portage to Whittier via an Alaska Railroad tunnel to Valdez via the Alaska Ferry System and returns to Anchorage via the Richardson and Glenn Highways. This Adventure actually will start in Anchorage, (see Great Alaska Adventure #1) via the Seward Highway to Mile 78.9 at the junction of the Whittier/Portage Glacier access road.
As you travel this road you will see several glaciers on the mountainsides. At mile 2.4 there is a good viewing area for Explorer Glacier.
There are several camping areas along this road that require reservations with the US Forestry Service, so call ahead of time, 1-877-444-6777.
Moose and bears frequent this area as well as salmon in the streams so have you cameras ready.
At Mile 4.1 there is a salmon observation area with decks over the streams. Several types of salmon come here for spawning from late July to mid-September.
The road forks at mile 5.2. The right fork leads to Portage Glacier Lodge, Begich Boggs Visitor Center at Portage Lake, Byron Glacier Trailhead, and Portage Glacier Cruises. The left forth leads to Whittier.
The Begich Boggs Visitor Center is a great place to learn about The Chugach National Forest, glaciers, including Portage Glacier, animals that frequent the Chugach National Forest, and stories about the people who lived in this area. The visitor center is open daily from 9 AM to 6 PM from Memorial Day to September and weekends from October to May.
If you continue past the turnoff, You will get to the Byron glacier trail. This is a well-maintained trail and is outstanding for a day hike.
You can drive past the trailhead turnoff and go to the M./V. Ptarmigan sightseeing boat cruise dock and passenger waiting area. The cruises offered daily sightseeing trips on portage Lake at 10:30 AM, noon, 1:30 PM, 3 PM, and 4:30 PM. These trips give you a close-up view of Portage Glacier and the history of its recession.
As a side note, when I first arrived in Alaska in 1969. The face of this glacier was only about a mile from the Begich Boggs Visitor Center area. And of course, the visitor center did not exist at that time. For several years, huge icebergs would be floating in the lake that is between the visitor center and the glacier. In the wintertime, we used to walk out of the face of the glacier on the frozen lake.
If you intend to spend any time in this area. You will probably need to leave Anchorage early in the morning in order to continue this adventure to Whittier and be able to catch the ferry to Valdez.
Now back to mile 5.2 where the road forks. Taking the left fork will lead you to the toll booths at Bear Valley Staging area.
You are now in Bear Valley which at one time was literally between two railroad tunnels. This area actually has a reputation for extremely high winds that can reach 100 to 125 mph. It has been known to blow railroad cars right off the track.
At one time, the only way into Whittier with the vehicle was loading on a flat railroad car in Portage and being transported to Whittier via the railroad track.
The tunnel from Bear Valley to Whittier was constructed in 1942-43 as part of the Whittier cut off, a 12.4 mile-long railway line constructed to safeguard the flow of military supplies from the port of Whittier.
The tunnel uses a computerized traffic control system that regulates both rail and highway traffic which is only wide enough for one-way traffic. The speed limit in the tunnel is 25 mph. It takes 6 1/2 minutes for a vehicle to travel through the tunnel. It is the longest highway tunnel, and longest combined highway/railroad tunnel in North America at 13,200 feet.
The tunnel opens in one direction every 30 minutes. Be sure and check the ferry schedule ahead of time so that you will not miss your ferry to Valdez.
For a complete look at Whittier and its history follow this link.
Be sure and bring snacks and water as this is an eight hour trip to Valdez.
Also, be sure and wear warm clothing and rain gear as the strip can be cold and wet or warm and sunny or combination of both but the scenery, glaciers, icebergs, and many other things is well worth the trip. They do have food available on the ferry and to be quite honest, it's not too bad food.
Always be watching for sea life, including killer whales (orca), whales, other marine life, and land animals located on many of the islands and fjords.
The following videos and photos should give you an idea of some of the things to expect.
If the ferry schedule stays the same, you will arrive in Valdez late in the day. Be sure to make arrangements for late arrival at your hotel.
Depending on your schedule, there are  a lot of really neat things to do in Valdez. You can hike one of the mountain meadow trails, fish for salmon or halibut, tourthe Alyeska Pipeline terminal, tour Old Valdez where the 1964 earthquake tidal wave struck, or visit the quaint gift shops.
When you are ready to get on the road be ready for several hours of unparalleled beauty. Make sure your cameras are ready and batteries full.
Depending on the time of year, at mile 0.9 you will see the Crooked Creek Salmon viewing area. This very short little creek is bank to bank full of salmon during spawning time from mid-July to early September.
If you would like to try luck at fly fishing, you will see Robe  river at mile 4.0. It is a good place for Dolly Varden and red salmon. (fly fishing only)
After you wind you way through a dense forest of spruce and birch trees you will break out into the open and cross glacier fed Lowe river .
Get ready for some incredible scenery! You are about to enter one of the most beautiful drives in Alaska.  Keystone Canyon is full of shear rock cliffs, glacier fed river, and spectacular waterfalls.
At mile 13.5 you will find Horsetail Falls. Snow fed, the water is clear and cold, spilling down from the top and widening at the bottom thus the name "Horsetail".  See the next video.
At mile 14 is Bridal Veil Falls surrounded by several other falls. See next video.
There is an old unfinished railroad tunnel at mile 15. There is a sign that will give you the history. Basically the project ended with a gunfight in which the opposing owners were killed.
From mile 18 you will start a fairly steep 7.5 mile climb up to Thompson Pass. Along the way you will have some panoramic views. You will also probably start to notice there is some snow left on the mountain sides. Thompson Pass experiences some unbelievable amounts of snow falls.  The record was set in 1952-53 at 974.5 inches!.  You will notice the snow marker poles along the side of the road. Those rods sticking out at the top are to see the pole in the winter. They actually stick out the sides if the snow berms.
I was on my way to Valdez several years ago in the winter and had to stop and wait for snow plows to clear the road ahead. After about an hour 18″ of snow had piled on my truck. I had to clear it off to be able to continue on.
From Mile 23.6 to mile 25.7 you will see several good places to park for photos and views. If you do not mind a hike, walk out to the edge looking back toward Valdez for some incredible views. Be on the lookout for wildflowers. They are every where if you look.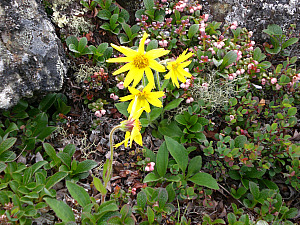 After you leave the last large parking area, you will reach the summit of  Thompson Pass at mile 25.9. More than likely you will be able to see snow banks left from the previous winter's deep snow.
The next stop is a real treat at mile 38. Take a left and drive the short distance to the Park for the access to Worthington Glacier. The hike to the actual glacier is fairly easy and will give you the chance to virtually reach out and touch the glacier.
From here you will continue on the Richardson Highway through this vast mountain valley with unbelievable sites and views with every turn of the wheel.  Moose are plentiful along this route so always be on the look out for them.
You will also get several views of the Alaska pipeline. You will see Pump Station 12 at mile 64.7.
There is a great photo op at mile 87.7. On a clear day the reflection of the Wrangell mountains can be seen on Willow lake to the east. If you have a clear day you can see Mt Drum and several other named peaks. Interpretive signs will show the names.
The Copper Center turn off is at mile 100.2. If you have the time you can take the Old Richardson Hwy loop through Copper Center.
From here you will continue down the highway to its junction with theGlenn Highway. You will cross the Klutina River at Mile 101.1.
At mile 106.8 there is a turnoff in and access road to the Wrangll-St. Elias National Park and Preserve Visitors Center. A stop at this visitor center is well worth your time. Be sure and watch the video they have available which is 22 minutes long called "Crown Of the Continent".
Next up will be the Tazlina River at Mile 100.5. Several of the rivers that you will be crossing in this area are teeming with salmon during certain summer months. For fishing forecast and regulations go to the state of Alaska Department of Fish and Game website.
Over the next several miles of this trip be on the watch at all times for  caribou, moose, and bear. Always have your camera ready.
At mile 115 you will come to the junction of the Richardson Highway and the Glenn Highway. On this adventure trip we are going to turn left onto the Glenn Highway. From here, mile 189 of the Glenn Highway, we will continue our trip toward Anchorage. You are now 189 miles from Anchorage. If you need gasoline this will be your best place to fill up. The town of Glennallen is fairly small but there are several gift shops and restaurants in this area. The Alaska State Troopers for this area are also headquartered here. There are several RV parks and campgrounds within driving distance of Glennallen.
The stories you have heard about mosquitoes in Alaska are absolutely true. On one of our camping trips to this area, we arrived after dark late in May. I stepped out of the motorhome with a short sleeve shirt on and my arms were almost immediately covered in mosquitoes! I slapped at them on my arm and my hand was literally covered with mosquitoes and my own blood. Always put on repellent when you're in areas that even come remotely close to having mosquitoes.
Also drive with care as this stretch of highway is known to have some pretty big frost heaves that can really damage you vehicle if you drive over them to fast.
The drive from Glennallen to Sheep Mountain Lodge at mile 113.5 is probably one of your best opportunities to see caribou.
During my first few years in Alaska, I hunted caribou in this area to provide meat for myself and my family.
This section of highway can seem pretty desolate. However there are several rivers and lakes that have some great fishing.
At mile 168 there is Soup Lake on the north side of the highway which is probably hidden by trees where trumpeter swans can sometimes be seen. Also in the summer especially in June and July there is an abundance of wild flowers such as sweetpea,Lupine, fireweed, Jacob's ladder, cinque-foil, and oxytrop.
There is some great grayling and burbot fishing at Tolsona Creek at mile 172.8 and Lost Cabin Lake at mile 165.9. The bestbait is either a mosquito fly or salmon eggs. There are also some great berry picking opportunities in late summer or early fall for blueberries, low-bush cranberries, and wild raspberries at Tolsona mountain.
At mile 156.4 there is a great view of Tazlina glacier to the south.
At mile 129.5 you have reached Eureka Summit, elevation 3322 feet. This is a popular area for off-road vehicles in summerand winter. It is also a popular jumpoff point for hunters who use all types of transportation to reachisolated areasinhibited by moose and caribou.
One of the coldest hunting trips I can ever remember was in this area. We had taken off in the morning in decent weather conditions with a temperature of about 50°. After we had been out about five hours the weather changed and it started to snow and the temperature dropped to about 5°. We well-dressed was not prepared for the blowing snow and that low temperature. The time we finally got back to our vehicles were extremely cold. It seemed like it took forever to warm back up. Fortunately one of my friends had brought a bottle of brandy which we down quickly.
Eureka Lodge at mile 128.3 is a good place to stop for coffee and mingle with some of the typical Alaskans. At anytime there may be hunters, miners, tourists, locals, and just about any other type of characters hanging out at the lodge.
Just down the road there is a spectacular view of Gunsight Mountain straight in front of you. There is no mistake about why they c call this Gunsight Mountain.
Again you will see many lakes, rivers, views of mountains and glaciers, campgrounds, and lodges in this area.
The turnout at mile 118.8 is a popular spot for birdwatchers in the spring. Golden Eagles, kestrels, hawks, and other raptors pass through this area on their way to their western Alaska nesting sites during a 2 to 4 week window in April. The Anchorage Audubon Society holds an annual raptor tailgate party and census during April.
At mile 114 you will get a dramatic view of glacier point also known as Lions head.
One of our favorite places to stop for soup, sandwich, and a piece of pie is at Sheep Mountain Lodge at mile 113.5. The food and atmosphere is truly Alaskan. There are telescopes available for spotting Dall sheep on the surrounding mountainsides.
From here you will be widing your way along another section of highway that I consider one of the more beautiful scenic areas in Alaska.
As you wind your way along this road start looking to the south for the Matanuska glacier. Again he will be crossing many rivers and passing several nice lodges. At mile 102.1 is access to the Matanuska glacier. This access is privately owned and there is a fee for entry. This particular glacier has a totally different personality is well worth your time to actually drive back to it and walk to his face. Photo ops abound. Caution! Be very careful about walking under overhanging ice. There have been several
people killed over the years by glacier ice falling on them.
Enjoy the many views and always have your camera ready.
At mile 85.4 you will see Long Lake on your life. This is a great fishing lake.
From this point on you will be traveling along the Matanuska River. Always be on watch out for wildlife. There is also opportunities for rafting if you're so inclined. You have probably figured out by now that rivers that are directly fed by glaciers are very silty. Rivers, streams, and creeks that flow through lakes are generally clear because the glacier silt settles out in them.
You will pass the Junction to Hatcher Pass at mile 49.5. This will be a jumping off point for another adventure in a future posting.
Palmer, Alaska is located at mile 42. Palmer is a community that was formed during the Depression when farmers from the Minnesota-Wisconsin area migrated to Alaska for its homesteads. The official Alaska State fair is held in Palmer last week of August and the first week of September.
From here you will be headed back to Anchorage going by the Junction to Denali Park and Fairbanks via the Parks Highway. The flat area you will be crossing is known as the Palmer hayflats. Waterfowl and moose are abundant in this area which is a protected waterfowl refuge.
After the highway turns to the left you will now be crossing the Ekluna flats. These lands are abundant in wildflowers including shooting stars and wild irises. Be aware these flowers are protected and is against the law to pick them.
Eklutna historical Park is located at approximately mile 25. You can see and learn much about the native history in this area.
From here you will go through several communities on way back to Anchorage.
To get a detailed mile by mile description of the Adventure we just completed pickup a copy of the Alaska Milepost.